Location:
Germany
Client:
Myself
Start and end of planning dates:
January 2020 – June 2020
Type of project:
David Holmgren's domains:
Health, spirituality and well being
12 categories:
Design process:
SADIMET
Design goal:
To create a comfortable, healthy, colourful private space
Design status:
Implemented
Synopsis
My accommodation at Kuckucksmuehle is a private room with access to communal areas. This private room is for an introvert like me a temple and so when I came to choose this topic for a design it is because it was desperately needed in order to thrive in the community.
Survey
Since the design is for myself I decided to use a simple survey tool in order to review what is working and also peripheral feeling about the process.
Retrospective
what is going well?

I have a private room that I do not have to share with others
The windows are double glazed
The carpet works well as insulation
The wardrobe in the room is large enough for all my belongings

what can be improved?

a better bed frame
a better mattress
organisation of the space

in the edges there are…

having to work with what is on site already in terms of furniture
some feelings about not having enough space to make the room nice

the fun parts about this are…

I can be creative, I enjoy making spaces nicer and use simple design quirks
Ethics
People Care
Without a private functional space I feel like I am not able to care for myself sufficiently in order to then be fit to be around others. This is especially important for me because I need a lot of personal private time.
Earth Care
I want to use furniture that is already available on site that is not currently in use or if that's not possible then lookout for pre-owned / dumped items in the area.
Fair share / Future Care
I want to make sure that I leave the room better than I found it for others if ever I decided to leave.
Visioning
At the end of the process I will:
have a space that feels comfortable
have a bed that doesn't hurt my back
have a space that helps with sleep hygiene for a good night sleep
have a space to read and do other creative activities when I feel like I need to do that in private
have improved the cool and heating for the room
feel happy about the process and the result
Analysis
The temperature issue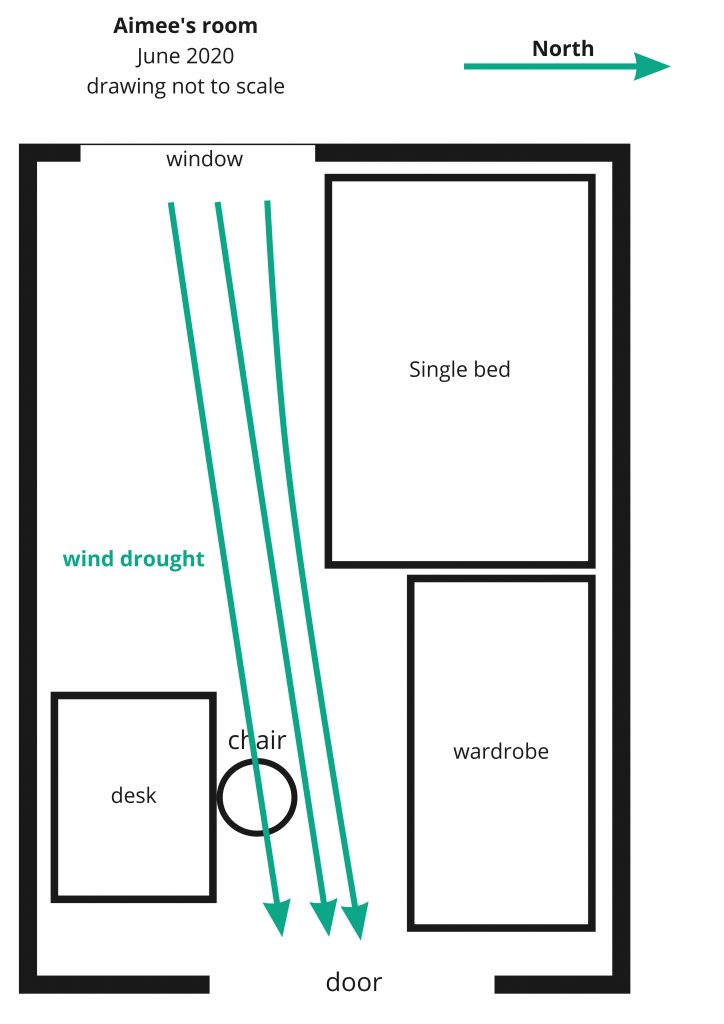 Through observation, I knew that the wind was going straight through the ill-fitted windows right to the ill-fitting door.
What you cannot see on the plan is that on the left hand side the room shares a wall to another heated bedroom, on the left hand it is an outside wall, and the door goes on to a corridor which is also an unheated space. The room also sits above a bedroom which is unheated.
Outside the window is also a big horse chestnut tree which blocks direct sunlight during the leafy season. The only direct sunlight is during the late afternoon as the sun goes around the tree on the left as it sets. In winter this time window is narrower.
Under the window sill is a heater, it is the last one in the circuit to it is often
Design
Implementation
Evaluation
Tweaking