| | |
| --- | --- |
| Design: | Increase functions of the mandala garden (education / rest / exercise) |
| Location: | Germany |
| Client: | Kuckucksmuehle community, visitors, volunteers |
| Start and end of planning dates: | January 2020 – June 2020 |
| Type of project: | Land based design |
| Design process: | GOBRADIMET |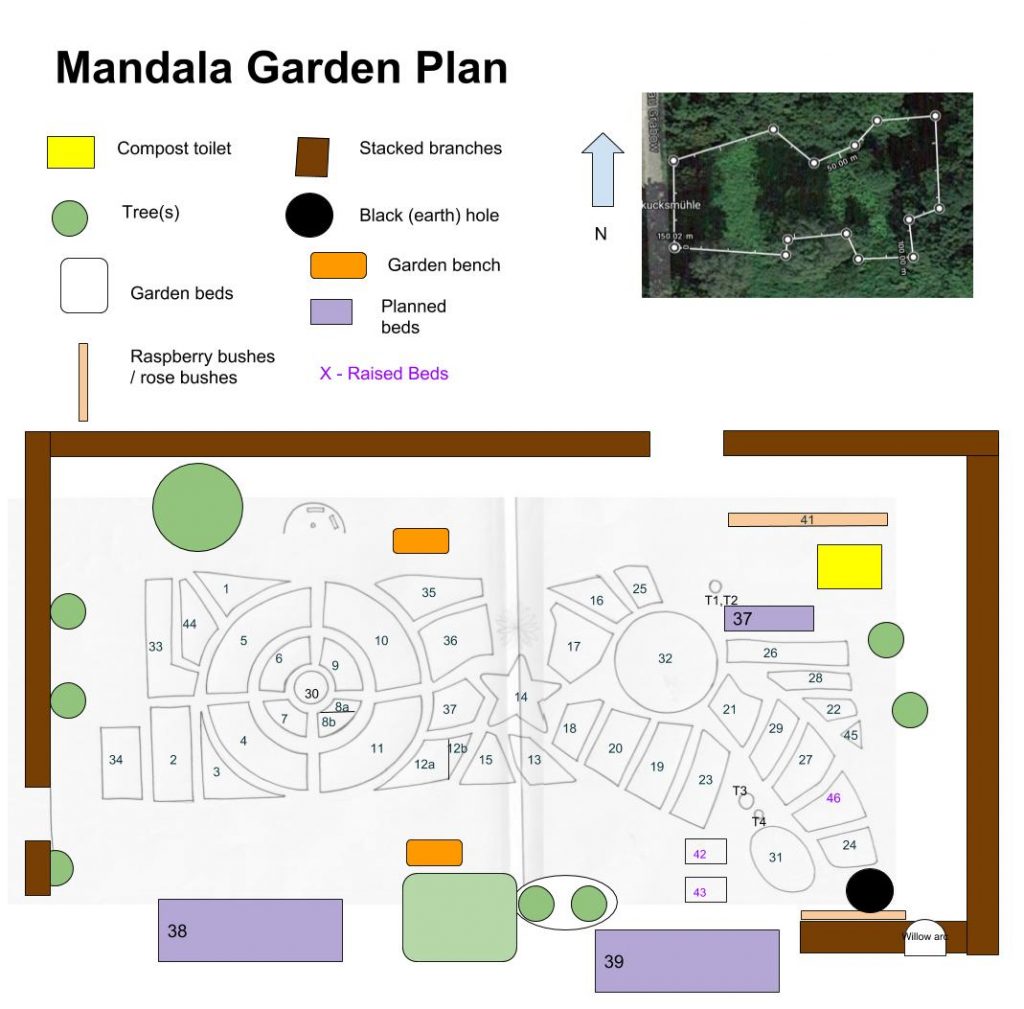 Goals
The Mandala Garden is the main food growing area of the Kuckucksmuehle and was started in 2017. Every year a garden plan is developed and community members and volunteers contribute their time and effort to maintain it so that everyone can enjoy home grown food. The design came about to increase function of the garden so that community members feel more inclined to spend time in the garden, and that it does not only produce food but also a place that people can enjoy their time in and also learn from.
The design is therefore for: the community members, volunteers, guests and visitors
Observations
The garden is a lush green space but easily invaded with nettles that grow 6 foot high if not cut down regularly.
The garden paths are mowed but could be kept down with more usage.
In the winter there is some snow and frost, most of the crops are harvested before October.
In the garden is a compost toilet, the path to the compost toilet is used all year around as the flush toilet in the house with the
Boundaries
The community has limited time and so any elements, implementation and maintenance will have to be stacked functions with what is already happening.
The climate is wet almost all year around.
There is no financial budget available for this design.
Resources
There are a lot of resources that can be used including recycled wood, fabric, seeds for flowers and some festival equipment like a teepee, a tight rope, solar lights. These materials are normally stowed away and taken out for events.
The community members have a range of different skills including wood work, creativity, design.
The volunteers all come with their different abilities although transient.
Visitors and guests are encouraged to help out with maintenance, for example not stepping in the beds, weeding, harvesting.
Analysis
Design
Implementation
Maintenance
Evaluation
Tweaking