| | |
| --- | --- |
| Location: | Germany |
| Client: | Kuckucksmuehle community, internee, me |
| Start and end of planning dates: | November – December 2019 |
| Type of project: | David Holmgren's Domains: Land Tenure & Community Governance |
| Design process: | SADIMET |
| Design goal: | To design a call out for a new intern |
| Design status: | Implemented |
Synopsis
Being the project manager of an eco-community is hard work, there are a lot of coordination tasks and hands-on work that needs doing which often felt like too much.
Since I have signed up as a member of the Permaculture Association I often receive emails with the latest opportunities published on their website. There are often offers like the one I was wanting to provide and so there was my inspiration. This design is all about crafting the communication of what we needed and what we wanted to welcome as part of our project in terms of help from an intern and also what we could provide in exchange.
Survey
Site Survey
Kuckucksmühle (Cuckoo Mill) is a historical water mill in the North East of Germany (Brandenburg Federal State) between Berlin and Hamburg.
It is also the name of a small community of 6 to 9 people that live on-site, permies: 1 elder who suffers from dementia, 1 programmer that works remotely, 1 programmer that spends weekdays in Potsdam and weekends at the community, 1 project manager, 1 programmer spends months away and then months again at the community. Then there is the transient part of the community: 5 volunteers in Summer and 3 in Winter. Turnover of transient members is usually around 2 weeks however longer stays are possible and do happen occasionally.
The average occupancy is around 6 people per day.
Community Ideals
Sustainable living using appropriate technology and permaculture principles.
To provide sustainable living spaces for people to experience a way of life that is not necessarily dependent on the system using appropriate, open and low-cost technological solutions.
Sustainable Living & Simple Sustainable Solutions
self-sustainable community and living environment
ecological farming using permaculture principles
reuse & recycle
conserving resources like water, soil, …
avoiding the use of chemicals/pesticides
preserve & rehabilitate nature
repopulation of flora & fauna
use of natural products (hygiene)
living off the grid when possible
Reducing Poverty
create low cost opensource solutions for permaculture farming
raising awareness about poverty and how to alleviate it
create and maintain a fair share environment
Building an Inclusive Community
respecting all members of the community
providing an anti-discriminatory space
community members can be both offline (local) and/or online
Art and Culture
providing a space for art and culture
promotion and support for local art and cultural events
Sustainable Hackerspace
development of open source solutions focused on the needs of permaculture farming
automation of recurring tasks to save resources
intelligent resource management
Connecting People
encouraging collaboration
collaboration with other similar projects/communities
involving the local community
encourage social gatherings & festivals
using & promoting local resources and local networking infrastructure
Education
workshops & skill sharing
internships & volunteering programmes
documentation of the project
opensource development & promotion
Democracy
implementing a democratic or consensual way of making decisions such as

setting priorities
use of monetary resources
promote and enhance the democratic process
Community main goals
Affiliations
Part of the Eco Hacker Farm project
Energie Dezent e.V.
Client Interview
There were two-dimension to the client interview, in the first instance to establish whether the community would support the allocation of one of the volunteer positions to be dedicated to helping with Aimee's tasks and in the second dimension to establish what other expectations would be there for another long term community member.
Community members are not so interested in scheduling formal meetings and prefer to discuss topics informally. Below is a summary of the different conversations held between the 22nd of November and the 29th of November 2019. For the purpose of this exercise, the permanent members of the community except for Gert due to dementia participated in the discussions.
Aimee: Needs help. My role is currently very broad and with many projects on-site and externally it is not possible to focus my energies on the long term development needed for creating a sustainable income. It would also be interesting to combine this spreading of responsibility with someone who stays with our community and wants to be a part of it for some time, say 6 to 12 months in order to be able to add value and create a system that can be built on after they move on.
Franz: Acknowledges that there needs to be a reduction in Aimee's workload, likes the idea of adding more long term community members and their input into the community income stream. He also would be interested in getting involved with some income making activities but only if they match his interests. For example mushroom cultivation or beekeeping.
Robert: Is a little sceptical as to whether we would be able to find long term residents however after having seen similar posts with other communities he recognises that this might be possible. He also likes the idea of adding to the community members.
Anton: Is happy that Aimee is acknowledging and is asking for help, additional members to the community welcome and hopefully we make steps in the right direction with diversifying our income streams and working on different ideas.
Vision for the role and the person
Focus on income generation projects only
Fits well within our community – share ideals
Long term stay 6 to 12 months or longer
Understands / wants to learn more about our community vision, permaculture and hackerculture
Budget
Funds for accommodation and food from the volunteer budget reducing no of temporary volunteers from 5 to 4 in Summer and from 3 to 2 in Winter – maintaining flexibility where possible.
Private accommodation sacrificing one rental room in the hopes of recouping the costs from the interns income focused work.
Resources
Permies skills

Project management
Programming skills
Permaculture knowledge & design

A beautiful residence in a historical building
Some rooms that can be rented out with minimal changes
The Ecolodge building that is almost ready for renting out
Woodwork shop in the barn equipped with basics
Profile on many platforms to attract more volunteer help
Ideas: permies have plenty of different income generation models
Mutual support and encouragement: being part of this community means that you provide support to other members when they need it and ask for help and receive support when you need it.
Limitations
Time – minimum maintenance should be needed
Current income flows and desired flows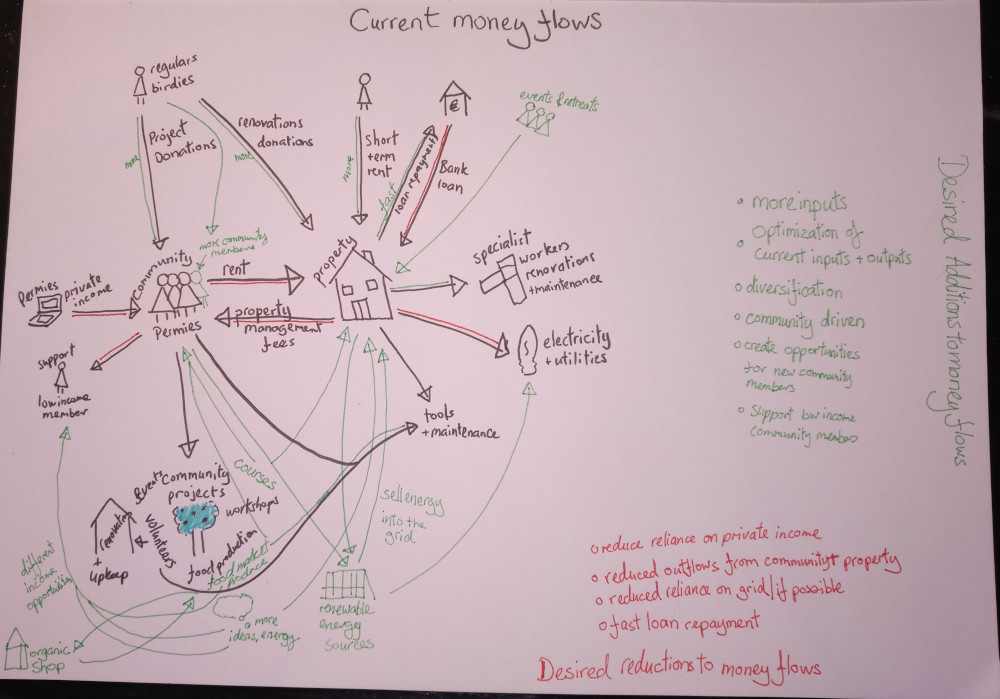 Understanding the current flows and the desired additions and reductions is a way of identifying the direction in which the job role will go, which skills may be needed and also where there is room for own ideas and creativity within this framework.
Specifics for the job role to create new income streams from:
Courses
Events & Retreats
Renewable energy resources
Food market produce
Non specifics:
Bring new ideas and more energy into the mix
Analysis
PMI
Plus, Minus, Interesting is a tool developed by Dr. Edward de Bono, the below is an enhanced version used for this design.
Plus
+ new energy
+ new ideas
+ familiar/effective effort towards becoming financially sustainable
+ can house site when we are away
+ feels more like a community with more permanent residents
+ increased skill diversity
+ better spread tasks
+ highlighting opportunities for improvements
Minus
– less rental income
– less wide exposure
– 1 less volunteer space
– financial risk
– reputational risk
– more financial resources needed
Interesting
i different group dynamic
i perspective of a newcomer
Fears
increased conflict in the community
ideals not shared
needs not being about to be met
Remediation
Probation period
open communication and behavioural expectations
shared ideals as a requirements
make clear which needs we can fulfil
Hopes
ideals are shared
open communication
shared goals
recuperate financial costs
SWOC Analysis
| | |
| --- | --- |
| Strengths | Weaknesses |
| Bringing in a new person increases the diversity of ideas and skills needed to make the community efforts successful. | Entering an established community may be difficult for someone new, especially if they do not know anyone there before. |
| Opportunities | Challenges |
| The community is more financially sustainable and closer to its collective goals of attracting longer-term community members by having different sources of income. Property renovation costs are covered without any loans needed from the bank. | The person chosen may not be suitable, damaging the community's good reputation in the local area / online. They could damage community social structures and property and become a burden. |
Goals
The main goals of this design are to: 
Provide a job description and specification document for a 1 year internship – income focused
Provide information about our community and what we are looking to do in the longer term
Allow for freedom and flexibility for the person joining in to bring their own ideas and energy to the role
Input & Output Analysis
As a starting point for this exercise, I took into account the known outputs and inputs and analyse how they interact with each other. I also wanted to make sure that since this post involved becoming an active part of the community this part would be emphasised.
This is demonstrated with the most links between the listed elements with community information and invitation output.
Design
It was clear from the beginning that the job post would be a mixture of a job description and a job specification document however this was not enough to portray who we are as a community and how a person would fit into our community. 
The main functions that have been identified:
Provide information about the community
Provide an invitation for engagement
Outline Job description – tasks that will be covered
Outline Job specifications – requirements from candidates
Share Ideals information
Outline Social contract terms
Outline Social contract offer
Provide Legal information/limitations
Element
Content
Functions
Title
One year internship post: assistant project manager
Outline Job description – tasks that will be covered
Status
Status: Open for applications
Provide an invitation for engagement


Introduction
Kuckucksmuehle is a small but growing community of 4 to 5 people which we call "permies" hosting up to 5 volunteers at a time in the summer and 3 in the winter. Together we work to combine permaculture and hacker culture (aka appropriate technology) for sustainable living. This year we would like to open a 1-year spot for a volunteer to help with the income generation part of the project. We live in a very beautiful 16th-century old water mill surrounded by land, our main focus is to become more self-sustainable both in terms of food production and also from an income perspective since the property requires extensive renovation. Our long term objective is to increase our capacity to accommodate more long term community members on site.
Provide information about the community

Share Ideals information

Provide an invitation for engagement
Job description
about the position:
You will be working 30 hours a week, to support and work closely with Aimee, the project manager on-site with tasks specific to income generation, these include but are not limited to:
– help with organising and planning tasks to get the ecolodge on the go
– help develop and implement a marketing plan for an ecolodge
– identify and develop other possible income streams
eg venue hire / workshops / retreats / room hire etc.
– occasionally house sitting
includes taking care of the animals and Gert (the elderly person living on-site) if there are no other volunteers on site (rare but possible)
Outline Social contract terms

Outline Job description – tasks that will be covered
Job specification
about you:
skills
– Highly organised and good at planning and implementation
– Comfortable with technology, spreadsheets, presentations etc.Familiar with permaculture principles or willing to learn
– Hands on skills for diy helpful
– Marketing and project management experience desirable
– Essential: an excellent work ethic, turn up on time and work collaboratively
Outline Job specification – requirements from candidates
Job specification
personality, values & experience:
– love countryside living, including animals, compost toilets, outdoor solar showers and getting your hands dirty
– has a can-do attitude
– want to participate in all aspects of community life
attending house meetings
– share in household chores (cleaning, cooking, heating, wood chopping, community workdays etc)
– values aligned closely with the three permaculture ethics
– A morning person that does not smoke and does not take drugs (prescription drugs are ok)
– Vegetarian / vegan
– do not have any own pets (we are already at capacity with the animals on site)
Outline Job specification – requirements from candidates

Provide an invitation for engagement

Share Ideals information

Share information about the community
Additional information
note about couples
If you are a couple then it would also be possible to make some arrangements especially if one of you is a carpenter, handy person or is a very keen housekeeper.
Provide an invitation for engagement
Offer
what we offer:
– A private room, visitors are allowed in line with our visiting conditions.
– Vegetarian / vegan homegrown/organic food we grow on-site and what we don't is sourced regionally / organic, we do not buy milk and meat.
– Supermarket drinks and snacks are not included but we have a small tuck shop on-site if you want to indulge yourself with a little chocolate.
– Generally we have a communal dinner in the evenings.
If you want to work outside the community for money, please make sure that you have enough time to honour our agreement.
– This position is for 30 hours a week in return for food and accommodation. Working hours can be discussed if you have preferred times and days, this will have to be compatible with the needs of the project and Aimee's schedule.
– We have a piano and electric guitar if you are musically inclined.
– We have bicycles you can borrow to go to town.
– You can learn how to live in nature, foraging, food growing using a no-till technique, companion planting, seed saving, craft making, natural fence building, food preservation, bread baking and countless other skills.
– Occasionally we go on trips and outings which you are more than welcome to join in on.
– There is a lake for swimming a short bike ride away from here which is quite pleasant in the summer.
Social contract offer
Experience and qualifications
important things that you should tell us about:
Your experience with:
– living in remote locations
– living in a community
– project management
– technology / programming etc.or other relevant subject
any of your needs that we can support you with
Provide an invitation for engagement
Additional information: Community information
things you should be aware of:
– We are a transitioning community that wants to be as eco friendly and sustainable as possible.
– We maintain a blog to try and document our experience, please read a few posts to get familiar with our activities and difficulties on site.
– Germany has a compulsory health insurance requirement, for people with 0 income this will be around 180Eur a month please make sure that you have enough funds in order to cover this before you apply for this position.
Provide an invitation for engagement

Legal information
Additional information: Community information
who is Aimee?
Aimee is a co-founder and project manager of Eco Hacker Farm, project manager of Kuckucksmuehle, co-founder of RioLaden eV (a community-managed organic and regional food shop), she runs workshops centred around permaculture topics. She is also a compost toilet designer, permaculture designer and permaculture design certificate holder. She can be found at tech conferences and alternative festivals delivering workshops and presentations or at Kuckucksmuehle gardening, organising or relaxing in a hammock. She also runs a yearly coding camp for young people. She is passionate and dedicated to spreading permaculture and sustainable living ideas into the world.
Provide information about the community
Conclusion
Apply today!
Send an email to aimee@ecohackerfarm.org to apply for this opportunity.
Provide an invitation for engagement
Applied Ethics
People care – grow as a community, provide space for a new community member
Care for the planet – offering an opportunity to live a sustainable life that is less harmful, learning new sustainable skills
Future care & Fair share – showing what is possible to others, sharing our spaces and having increased capacity for sharing even further.
Permaculture principles
The document certainly covered a lot of functions slotting very well in Bill Mollison's principle "Each element performs multiple functions". The multiple elements of the document certainly were a form of "stacking" as well as "energy-efficient planning".
We wanted the document to leave sufficient room for "Polyculture and diversity of species" and "Increasing "edge" within a system" with the invitation to bring forward skills we had not considered and remain flexible with the requirements particularly identifying which would be essential and others as preferred.
We also wanted to make sure that all elements are "Recognize Functional Relationships Between Elements – Every function is supported by many elements." that's including the intern and different members of the community by setting expectations and setting boundaries in advance and remaining open to adapt our offer and the document when receiving feedback.
Implementation
The design was presented to the community for approval on the 30th of November and it was quickly approved for implementation.
The document was published on the Eco Hacker Farm website & wiki, both in test and pdf format.
1st December 2019 – Published on Permaculture Association UK Opportunities list
7th December 2019 – Published on the Eco Hacker Farm Blog
13th December 2019 – Sent out link together with the monthly newsletter
What happened?
The call itself was a success in that we quickly found a person to start in this position.
We had a few responses to our call come from different sources, one volunteer decided to change his application from short-term volunteer to this apprenticeship. An online meeting was held and the person was invited to come and take on the position on for a trial period.
This was just before covid started, during the time when covid started the intern was away from the community staying with friends, before they left we discussed the risks and the intern decided to leave with the understanding that they may not be able to return if the rates went up and lockdown was in force. We decided that it was not safe for our elderly resident for this person to return back to the house. So we terminated their stay at this point. In total, the intern had stayed with us for around 3 months and worked on a mixture of tasks including income generation tasks for the Ecolodge and also in the garden. We also closed for visitors and new volunteers. Existing volunteers were invited to stay during lockdown with the condition that they would not leave to visit others during this time.
Maintenance
Upon feedback received – Ad Hoc
It was agreed that the wording of the different parts of the design would be adjusted depending on the feedback that was received from the public as and when received.
After 3 months of first publication
Similarly, the post would be revised if there would be no applicants after 3 months from first publications to reduce the internship post from 1 year to 6 months.
After 6 months of no appointment
The community would also be able to decide after 6 months if there were no suitable applicants to reconfirm the need for the post, whether to republish this or abort it and think of other solutions.
Evaluation: Have I completed what I have set out to achieve?
Yes, the call for an apprenticeship was consented to by the community and posted on the various online tools we have access to.
What did I learn?
I took the time to refresh Bill Mollison's principles for this design. I also had a chance to practice group process facilitation around speaking up about needs from patterns to details from the individual needs to the community needs. It was also my first time experimenting with an income flow design which I was really pleased with.
I also found out more about myself, my biases and some shadow work that I needed to do. Overall the design was not only productive in that it produced a good result which added a new member to our community but it brought the community closer to the design and as we onboarded the new member and helped us explore different ways to make decisions through a consent-based system.
Reflections: Key learnings from the design process:
What aspects of the design process, tools, ethics or principles worked for me on this occasion?
I enjoyed making the income flow design and have used it again a few times since. Practising with the PMI tool and creating a custom amalgamation of a job description, job specification, community information and invitation was quite an interesting challenge in stacking functions and elements. I found the process of applying permaculture design for this task brought with it many yields which would otherwise not have happened: mainly around the community building and outlining the social agreements, visioning, governance and available support.
In this case I had done some of the tool work on pen and paper and I really enjoyed that part of the process.
I have also collected some of my reflections on the process here including some reflections on unexpected yields.
What aspects did not work for me?
Overall I think everything worked out fine in the end, I am still struggling to do the documentation on an ongoing basis rather than leaving it until the end. I resisted the temptation to make my drawings look perfect and went with good enough and safe enough.
What would you do differently next time you use these processes, tools, ethics or principles?
I would do the documentation on an ongoing basis and have better integration between the ethics, the principle and the design artefact (in this case the call-out document).
Tweaking
Since this seems to be more effective I will also add this as an offer to volunteers who apply for short term stays if the applicant doesn't work out.
Appendix: Supporting documentation
---
Accreditation Criteria
key ingredients
Aimee's comments
Use of an intentional design process
SADIMET
Consideration of all three ethics in every design and across the whole portfolio.
See Permaculture Ethics section
Use of at least three of the permaculture principles in-depth (and a variety across the whole portfolio).
See Permaculture Principles section
Use of at least three design tools (and a variety across the whole portfolio).
Site survey
client interview,
visioning,
income / desired income flows chart,
enhanced PMI,
SWOC,
input-output analysis,
Component (element) & function chart,

Identification of the client and aims to meet the needs of the client.
See sections Survey & Analysis
Use appropriate presentation methods to communicate your design work to the client.
Call out was published on the Eco Hacker Farm wiki
Identification of a clear design brief which may include setting goals.
See section Analysis
Clear record of relevant observations or survey work.
See section Survey
Inclusion of your design decisions relevant to the situation including an implementation plan and maintenance plan.
See Design section
Evaluation of the design subject and content.
See section Reflection & Evaluation
Reflection of the design processes used.
See section Reflection & Evaluation
Summary of your lessons learnt and indicators of progression.
See section Reflection & Evaluation
Provision of supporting evidence
See the Supporting Documentation section for links
Provision of acknowledgements
Integrated into the content
Self-assessment
Done in this table, see section Reflection & Evaluation
Providing a summary of each design
See synopsis section
Addition of captions
Included with every picture
Highlighting keywords
Section and keywords highlighted with larger and/or bold text.